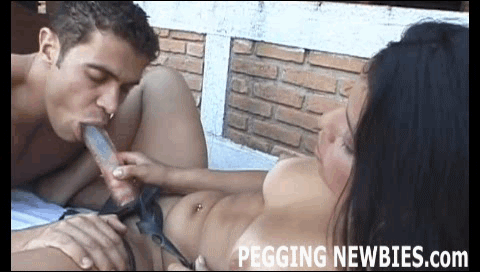 Be a good boy and suck your lady's dick. Yeah, that nice hard, plastic shaft she has ready for you is soon going to be busting you open in your first pegging experience.

I need to remain as relaxed as possible during this pegging experience. She's not going to go easy on me even though it's my first time getting it in the ass. Focus on sucking and make sure you get this thing nice a moist above all else. That's your focus, now get to it and don't take your mind off the fact you're about to get rammed.

Fuck, that feels incredible. People always told me that taking a strapon in the butt was brutal, but they never said a word about just how enjoyable it was. I'm getting nailed like a slut on her 100th dick: this is amazing and my cock is just going to explode with cum. It might be my first pegging experience, but it sure as hell won't be my last.