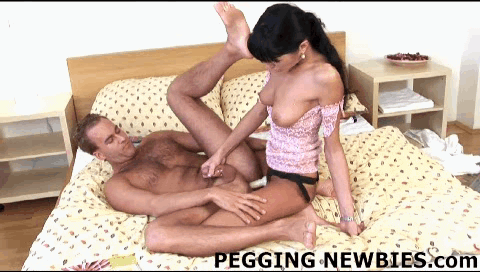 I was waiting for you to finish showering so that she could introduce you to a new friend. Say hello to Mr. Strapon – your ass is about to be violated.

I love you baby, which is why I want you to submit to me so that I can fuck you in the ass. That's it – put this plastic dick on your mouth and get it nice and wet. I'm going to have a little taste of your dick first, but as soon as that's done, your ass will be spread and I'm going to come at you with everything that I've got.

How does it feel to be completely opened up and powerless to me? Your tight asshole is so incredible and I want nothing more than to fuck you as hard as possible. Do you think you can handle all 6 inches of this dick? Good, because I'm going to slide it in, and once I do, I expect your cock to cum with all the pleasure you're getting from this hot first time pegging experience.